One of my fb friends has started a cupcake/flower business. A few days ago she posted a recipe for cupcakes. Peanut butter? Chocolate? Uh, yes please! Here's the fb post:
https://www.facebook.com/Sugarbeescupcakesandflowers/posts/865314606817480?stream_ref=10
I highly suggest making these if you are at all partial to cupcakes. Or peanut butter. Or chocolate. Or yummy bites of heaven in your mouth. I made mine wheat free, but definitely not sugar or dairy free. A few other tweaks here and there (naturally), but nothing so major that it changes anything….well, I assume. Bottom line, they're damn good.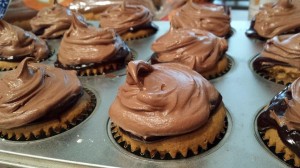 Mine don't look near as professional as hers do, but then, I'm just making mine to shove in my family's face, not to sell 🙂 A thing to note, the recipe makes 24 cupcakes. If I had realized that, I probably would have cut the recipe in half. Since I had so many, I decided Alan needed to take some to work. Why, oh WHY do I try to make any kind of decision before I've had any coffee?? Transfer cupcakes to pan? No problem. Lid only has one locking side? Sure, it's fine. Test to make sure everything holds because a broken lid on a pan holding 12 cupcakes could go badly? Yup! Ugh. Needless to say, Alan didn't take any cupcakes to work today.
I've now been married 13 years. That's a little weird. And pretty cool.