Epically. I was never great with them in the first place, but throw in funky ingredients and I'm a goner. Twice I've tried and twice they went horribly wrong. The first time, they tasted horrible. Ugh. Just, bad. I looked around off and on for a different recipe and finally settled on one that I was excited about making (side note: it was one of the main reasons I was so excited about getting my food processor and it took me weeks to use it for the actual waffle recipe). So, yesterday I decided I was going to give it another go. The first one came out great. Not the greatest of presentations, but it held together and tasted pretty darn good. Then, I tried to make a second one. Then a third. Those, those did not turn out so well. I don't know what the crap happened, but it ended it mass failure. At least I got to eat the one good one.
Yesterday, I realized that I missed biscuits. Granted, it was only after hearing someone telling me they had biscuits and gravy for breakfast that I realized it, but still, I realized! So, off to the internet I went. I found this one that looked easy enough so I made them this morning.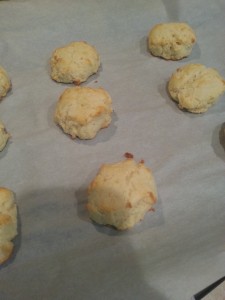 While they aren't bad, and in fact are pretty decent, they lack any sweetness. After a dab of butter and a dollop of honey, I think I may have found my biscuit replacement. You know, come to think of it, they remind me of cornbread in the texture….random thought. Now if I can figure out how to make gravy…
Other random thought, I take crappy food porn pics.