This was last Thursday, when the kids had to go to school:

This is today, when school is cancelled: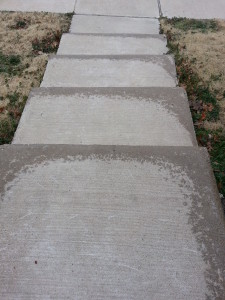 I've lived here all my life and I still don't get it.
Lately, I've been fairly slack on making fun dinners, baked goods, anything. Yesterday, I decided it was time to change that. I went to my go to website to find something to use up leftover chicken and ran across Artichoke Lemon Pesto Chicken Pasta. There were some pretty high hopes for the greatness of it and let me tell you it in no way disappointed. Seriously. It's so good. Naturally, I didn't follow the recipe exactly (does anyone?) as I didn't have walnuts, vegetable broth, or fresh parsley. I used chicken broth instead and left out the other two. I'm going to say it in no way diminished the taste because of how awesome it was. Today, I've got a cookie recipe of her's that I plan on trying. Providing I get all the laundry done. Stupid laundry.
Throughout the years, Alan's music has been shoved to the backburner. He's decided that it's time that it comes back out and get the kids involved. He tackled the playroom to also become a music room. Colin dove right in.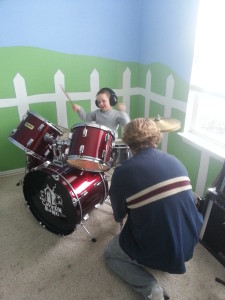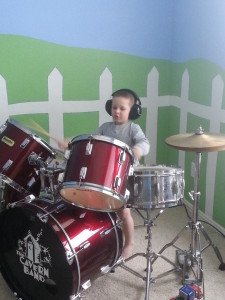 Thankfully, this went well with my Valentine's Day present to him. And since I can't keep surprises to save my life, it's already all set up.
I'm quite pleased with myself for this. I have a love/hate relationship with vday. It really is a silly holiday and way overblown. However, I like to do it. This year, though, I couldn't see spending a ridiculous amount of money on an overpriced average dinner, so I wanted to do something that had some actual meaning to it. Plus, I got to use a power tool. 🙂 Also, I learned that there's a knob on the trigger that changes the tension in the drill that makes drilling a ton easier. Learned that one the hard way…oops.